A different St Andrew's night!
Friday 27 November 2020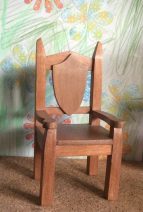 Our "Bards wanted!" Zoom meeting started with the 19 members present raising a glass to the memory of Jean Phillips, whose idea this session had been, but who is sadly no longer with us.
Jennifer Welsher was in the chair – not the one in the image, though she told its story, which you'll find in this post – and led us swiftly through our 40 minutes of fun. Many dressed for the occasion, with glimpses of tartan, and many contributed their poems. Some of these were a wee bitty political, as one might expect in these strange times, and some struck a somewhat poignant note, but all were good-humoured.
Some of the non-Welsh content was local – Pam Williams talking about Nessie – and some less so, Jennifer's own contribution ending up with a hint of Uncle Tom Cobley. Some of the poetry rhymed and scanned as intended; in some the poetry was rather more force-fitted than manipulated. If any one can think of a rhyme for Llanelli, Huw Thomas would love to hear!
With so many participants, it's invidious to single out particular contributions, but Hugh Richards provided examples of haiku, limerick and other verse forms in both Welsh and English, and Alison Hughes read Pam Ayres poem "About Lockdown". In the final minutes, Nancy Hacking recalled a W H Davies poem that she had learned in her youth. "Leisure" – the one that starts "What is this life if, full of care, we have no time to stand and stare" – was indeed one to run out of time on!