EWSNEWS May 2021

The story so far

Wednesday 28 April. Tudur Owen in conversation with Ieuan Rhys and Phyl Harries at 7.00pm

Not strictly one of our events, but Ann and Dan Evans and I made up more than half the audience. The stars gamely went on and we had a delightful hour of reminiscences from Tudur, many about his times in Edinburgh and experiences of the Fringe, off and on stage. It was a lovely evening.
Friday 23 April. Zoom quiz at 7.30pm
An enjoyable get together with gentle cerebral exercise ably put together by Chris and Margaret. I counted 22 so we beat Tudur and company by a country mile. Many thanks to the Brandies, and to all who gamely had a go.
Forthcoming events
Friday 21 May. Zoom talk: "The last whispers of Welsh in the Borders" at 7.30pm
Many thanks to John Evans who has put me in touch with Geoff Parkhouse of the Ancrum and District Heritage Society. [Thought: Ancrum Bridge was an important feature in medieval times, and it's practically on our doorstep. Might it be possible to visit sometime in the future?]
Geoff's talk is intriguingly entitled "The last whispers of Welsh in the Borders: The forgotten history of the Prince of Cumbria, the Bishops of Glasgow and the legacy of the Gwyr y Gogledd".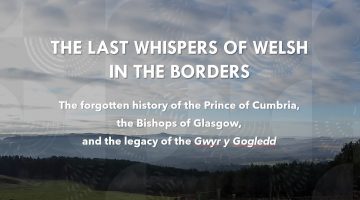 I look forward very much to hearing what Mr. Parkhouse has to tell us about an interesting piece of history. Meanwhile, cuppa at the ready, do join us please.
If you haven't received an email with joining details, please get in touch with me: gro.yteicoshslewhgrubnidenull@yraterces.
Geoff's talk will take the form of a PowerPoint presentation and he'll be more than happy to take questions afterwards.
---
In other news …

I received this email recently from Anna Yardley Jones:
"I wonder if you would be willing to draw attention to our Welsh language sessions on your social media or within your newsletter please? These are tailored for parents in particular but are also suitable for Nain and Taid, people working with young children and anyone who wishes to learn some basic Welsh (including plenty of nursery rhymes!). The sessions are free, available virtually, and you can follow them from anywhere around the world! The sessions will run for eight weeks and will start w/b 10 May. I enclose a poster advertising my sessions as I have plenty of free slots, but there are other courses available on different days and on different times. It's still not too late to join in."
More details on the Clwb Cwtsh Facebook page at https://www.facebook.com/ClwbCwtsh/
---
Stay safe and I hope to see you via Zoom soon.
Jennifer
Jennifer Welsher – Ysgrifenyddes CCD / Secretary EWS