Welcome
---
The Society was founded in 1920 with the object of providing opportunities for Welsh people in Edinburgh to meet socially and to continue their interest in the language and culture of Wales.
Membership is not restricted to those of Welsh origin. Anyone with an interest in Welsh culture is welcome to become a member and attend meetings.
---
Our first meeting for this season was on Friday 15 September when a goodly number of members and their guests attended our usual Croeso evening at the Mortonhall Golf Club. We welcomed a number of new members and gave a very special welcome to Bryan and Pat Watts, President and First Lady of the Wellington Welsh Society, New Zealand, seen below with our own Presidential couple and Secretary: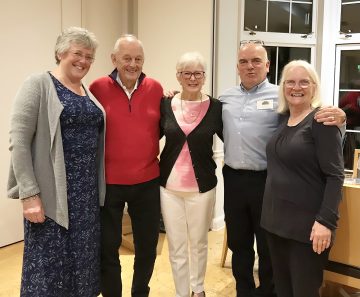 Then we met at Reid Memorial Church for our Harvest thanksgiving service on Sunday 8 October:

We've since seen a lot of friendly faces via Zoom on Thursday 9 November, when our President David Hughes gave an illustrated talk on his trip to New Zealand, and met for a St Andrew's supper party on Friday 24 November.
We are now eagerly anticipating Christmas, when a service of carols and lessons will be held at 3:00pm on Sunday 10 December, followed by a vestry tea. It would be enormously helpful to have an idea of who plans to come, and to know what members are bringing by way of a small contribution of food for the tea, so that we have a tasty spread. Please get in touch with Jennifer as soon as possible, preferably by email to gro.yteicoshslewhgrubnidenull@yraterces.
The newly-published edition of EWSNews that you'll find on our Newsletter page also has an annoucement about our Eisteddfod on 21 January 2024.
---
Cysylltwch â ni / Contact us:
E-bost / E-mail: gro.yteicoshslewhgrubnidenull@yraterces
Llywydd / President: David Hughes 0131 447 6175
Trysorydd / Treasurer: David Hughes 0131 447 6175
Event bookings: Lilian John 0131 667 7525 or ku.oc.rednoyeulbnull@nhoj.nailil
Ysgrifenyddes / Secretary: Jennifer Welsher 0131 335 3161