Welcome
The Society was founded in 1920 with the object of providing opportunities for Welsh people in Edinburgh to meet socially and to continue their interest in the language and culture of Wales.
Membership is not restricted to those of Welsh origin. Anyone with an interest in Welsh culture is welcome to become a member and attend meetings.
Please note: Our website is still being worked on to provide the Welsh-language equivalents of some of the pages that appeared in our previous website. Sorry!
Digwyddiad Nesaf / Next Events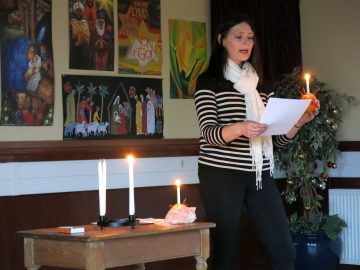 What is Margaret singing? You can find out from this post!
We've just enjoyed ourselves having a good sing at the Carol Service and Vestry Tea, as well as discovering something seasonal to do with an orange, rather than just eat it. More at this link. So now it's time for us to wish you all a Merry Christmas and a happy new year / Nadolig llawen a blwyddyn newydd dda.
We look forward to seeing you at our first 2020 event, a talk on Drove Roads at 7.30pm on Thursday 16 January at the Reid (small hall).
Cysylltwch â ni / Contact us:
E-bost / E-mail: gro.yteicoshslewhgrubnidenull@yraterces
Llywydd / President: David Hughes 0131 447 6175
Event bookings: Lilian John 0131 667 7525 or ku.oc.rednoyeulbnull@nhoj.nailil
Ysgrifenyddes / Secretary: Jennifer Welsher 0131 335 3161
<! Trysorydd / Treasurer: Keith Welsher 0131 335 3161>