Welcome
The Society was founded in 1920 with the object of providing opportunities for Welsh people in Edinburgh to meet socially and to continue their interest in the language and culture of Wales.
Membership is not restricted to those of Welsh origin. Anyone with an interest in Welsh culture is welcome to become a member and attend meetings.
---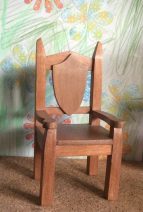 In the almost six months since our President's October message we have been enjoying each other's company by getting together, albeit virtually, as you can see if you click the image of the chair and follow the link to the report on our Zoom "Noson Lawen". Since then we have enjoyed a virtual Christmas service, a Zoom chat with Welsh Author Alis Hawkins, a "Music, poems and pints" evening, a Zoom Gymanfa ganu, and most recently a Zoom quiz.
As you'll see in our latest newsletter, we're finishing the season at 7:30pm on Friday 21 May with a Zoom talk by Geoff Parkhouse of the Ancrum and District Heritage Society. Intriguingly entitled "The last whispers of Welsh in the Borders: The forgotten history of the Prince of Cumbria, the Bishops of Glasgow and the legacy of the Gwyr y Gogledd". Do join us then …
For the 2021–22 season we're very much hoping that the coronavirus situation will improve sufficiently for us to meet in person next Autumn to celebrate our centenary – a year later than expected! – and that we'll be able to enjoy some of our regular summer outdoor activities. Do keep an eye on this site!
---
Cysylltwch â ni / Contact us:
E-bost / E-mail: gro.yteicoshslewhgrubnidenull@yraterces
Llywydd / President: David Hughes 0131 447 6175
Trysorydd / Treasurer: David Hughes 0131 447 6175
Event bookings: Lilian John 0131 667 7525 or ku.oc.rednoyeulbnull@nhoj.nailil
Ysgrifenyddes / Secretary: Jennifer Welsher 0131 335 3161