Memories of Dewi Bebb
Many of you will remember Geoff Parkhouse, a Welshman from Swansea who now lives in a village outside Kelso, and a keen amateur archaeologist/historian who gave a Zoom talk to EWS in May 2021 about the history of Ancrum (report at this link).
A year later, a group of members including Hywel Williams went to Ancrum for a walk/talk about what he'd said. After the River Teviot walk a few of them retired to the Ancrum pub, and that's when Hywel and Geoff found a mutual regard for Dewi Bebb, the first Welsh Internationalist from North Wales (thought he was playing for Swansea at the time).
Geoff recently wrote to Hywel:
"Your mention of Dewi Bebb really brought back a long-held boyhood memory – my first rugby recollection. A crowded St Helen's over Easter, sitting in the stand with my father and grandfather. I recall caps and big overcoats and that peculiar damp smell of them. I watched Dewi Bebb score what seemed to be a length of field try that day. The roar of the crowd. Dad and Grampa's broad smiles and cheering. I hadn't thought about this moment in many years, but your mention of the name triggered a flood of memories.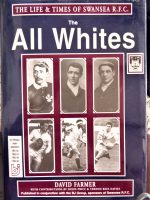 "I wondered how true the recollection was, as time warps everything. Chasing a memory, I dug out my book on 'The All Whites' (To be honest, a book I had hardly ever perused).
"Remarkably, there's Dewi Bebb scoring his long range try against the Harlequins. (Swansea traditionally played the Harlequins and the Barbarians over Easter weekend)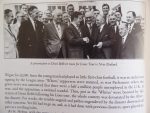 "Strangely, as I turned the adjoining page, there was a photo of Dewi Bebb being presented with a gift on becoming a British Lion. Strangely, because there in the right-hand corner of the photo stands a small man, Mark Parkhouse, my grandfather.
"There is a rather rounded satisfaction about all of this, in that your memories of one man from North Wales, triggered my memories of the very same man in South Wales, recalling a family moment I hadn't thought about in years."
Hywel adds:
"My mother was a primary teacher in Hawick at the time Bill McLaren was on his way up as rugby commentator, and she taught Bill how to pronounce 'Dewi'. He soon got it perfect! She had been taught by Dewi's grandfather a century ago when she was at Bangor Normal Coll (teacher training in North Wales). Hence her interest in Dewi, though she had no interest in rugby despite living in Hawick! As an aside, my father never saw a rugby game in his life, and that despite my younger brother Trefor getting a few games for the "Greens"!"
---
Click the thumbnails to get a larger image, which opens in a new tab.