Remembering Augustus John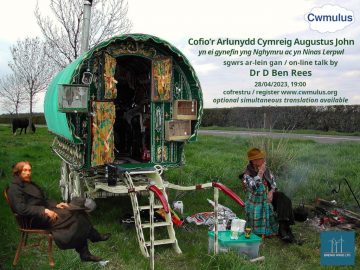 At 7.00pm on Friday 28 February Dr D Ben Rees will give a talk entitled "Remembering the Welsh Artist Augustus John: in his home in Wales and in the City of Liverpool".
Augustus John came from Tenby, and from his mother and the local art school he got the urge to paint. He and his talented sister Gwen John were encouraged to consider further training at the Slade School of Art. The lecturer suggests that the shy boy from Pembrokeshire became a real bohemian after a nasty accident when he jumped into the sea from a rock near his home and injured his brain. He resumed his education after months at home.
He came to Liverpool with his young wife in 1901, to lecture in the art school associated with the university. There he met the university librarian John Sampson, an authority on the Welsh Gypsies, and Augustus adopted the Gipsy way of life. He didn't stay long in Liverpool, where David, his first son, was born, but he did make a great impression on the Celtic City. A pub on the university campus was named after him in 1967 and an exhibition of his work was staged last year.
Dr D Ben Rees, the Minister Emeritus of Capel Bethel, Liverpool, is well-known in the city as a local historian. He is giving this lecture as a foretaste of a festival to remember Augustus John and his friend John Sampson, which is going to be held in Liverpool on 17 June by the Merseyside Welsh Heritage Society.
Cwmulus are hosting this on-line talk, which is in Welsh, with an optional English translation. Registration at this link.