Phil Harmonics concert
Saturday 1 October 2016
Concert by The Phil Harmonics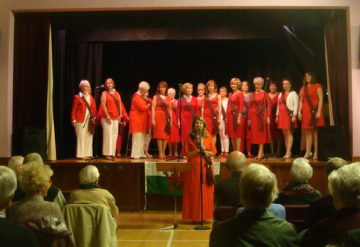 The Phil Harmonics are a recently-created ladies' community choir based in Llanelli, whose members love singing and are passionate about raising money for good causes home and away. In just one week in July, they helped organise a fundraising dinner and dance in aid of Prince Philip Hospital Breast Care Unit and a Ugandan maternity hospital, and gave an impromptu performance at the weekly meeting of Llanelli Rotary Club! In June they supported Eurovision Song Contest winners The Brotherhood of Man at the Selwyn Samuel Centre, and their memorable appearance alongside Côr Meibion Llanelli at the Ffwrnes Theatre is scheduled to be repeated in December when they will be appearing as special guests of the 'boys' of Côr Meibion.
It was a real privilege to host the choir for their first appearance in Scotland, when twenty ladies under the baton of Sarah Mair Richards treated us to a refreshing mix of traditional and modern songs with a difference. The large hall at the Reid was as well filled as the stage, and everyone present enjoyed themselves, both during the concert and at the refreshment break afterwards that gave the audience a chance to chat to the choir members.
Generous donations from the audience allowed us to send a cheque for £150 to Ty Bryngwyn Hospice, the charity the choir wished to support.