Plaspren – y Plasty Coll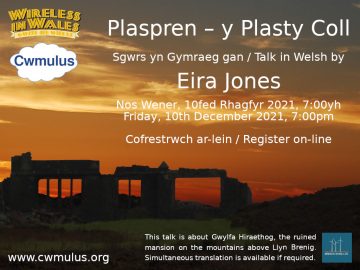 Plaspren – y Plasty Coll
Sgwrs yn Gymraeg gan Eira Jones – gyda chyfieithiad opsiynol
Nos Wener, 10 Rhagfyr 2021, 7:00yh
Beth oedd Gwylfa Hiraethog, y tŷ crand ar y mynydd uwchben Llyn Brenig? Magwyd Eira Jones yno pan oedd hi'n fach, rhwng pedair ac wyth oed, ac mae'n mynd i adrodd hanes rhyfeddol ei chartref.
Adeiladwyd y "plas pren" cyntaf yn 1898, wedyn datblygwyd plasty moethus ar y safle. Ond erbyn 1955 roedd yn dadfeilio. Erbyn heddiw does ond pentwr o gerrig ar ôl. Mae hanes cyfoethog i'r plas a adeiladwyd fel cartref haf i'r Arglwydd Devonport, er mwyn saethu grugieir ar y mynydd.
Cofrestru: Cymraeg – Cwmulus
+++++++++++++++++++++++++++++++++++++++++++++++++++++++++++++++++++++++++++++
Plaspren – y Plasty Coll
Talk in Welsh by Eira Jones – with optional simultaneous translation
Friday, 10 December 2021, 7:00pm
What was Gwylfa Hiraethog, the grand house on the mountain above Llyn Brenig? Eira Jones was raised there when she was little, between four and eight years old, and she is going to tell the remarkable story of her home.
The first "wooden mansion" was built in 1898, then a luxurious plasty was developed on the site. But by 1955 it was crumbling. Nowadays only a heap of rubble remains. The mansion built by Lord Devonport as a holiday home for grouse shooting on the mountain has a rich history.
Register: English – Cwmulus