Hanes Gwasg Gee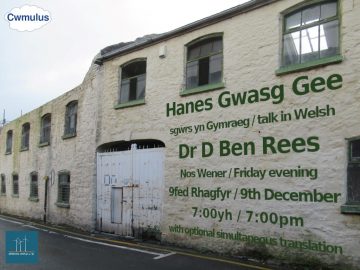 At 7.00pm on Friday 9 December Dr D Ben Rees of Liverpool will tell the remarkable story of the Gwasg Gee press, and the famous literary figures behind it, in a talk illustrated by slides.
Gwasg Gee in Denbigh was one of the main Welsh publishers for the better part of two centuries. The company became famous as the publisher of Y Faner, Y Gwyddoniadur Cymreig, and many books of all types. It was established by Rev Thomas Jones in Rhuthun in 1808, then moved to Denbigh in 1809. Thomas Gee took over in 1813.
After its golden age a long decline came in the second half of the twentieth century, despite the heroic efforts of the novelist Kate Roberts, owner of the company from 1946 onwards. Kate died in 1985 and Gwasg Gee died in 2001.
Cwmulus are hosting this on-line talk, which is available both in Welsh and with an English translation. Details and registration at this link.