Croeso by Zoom!
Friday 30 October 2020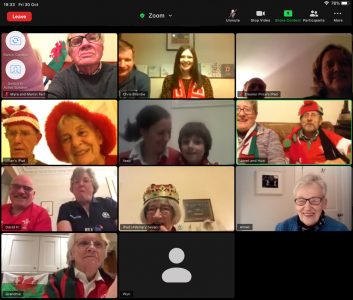 The Zoom get-together that had been proposed in EWSNews took the form of a quiz, hosted by Margaret and Chris Brandie.  As with our traditional "Croeso", this was an event supported by refreshments, though in this case it had to be a BYOB / BYOC (bottle/cuppa)! What would our founder members (one hundred years ago this year) have thought of that?
The composite snapshot above, taken near the start, only tells part of the story: by the time the questions got under way, over twenty of us were sitting in front of our  devices. There had been a request to wear something "Welsh", and the prize for "best dressed" went to Tristan for his choice of scarf, with honourable mentions for Huw Thomas, Mary Bevan and Jennifer Welsher.
Our minds were less prepared than our glasses, as was shown by the puzzled looks when our general knowledge was tested … and some of us fared little better when challenged by our ability to identify pictures of Welsh places, remember Welsh celebrities, and decipher cryptic clues to Scottish place names.
Huw and Janet Thomas won the quiz, with David and Alison Hughes runners-up and Jennifer Welsher and Wyn Davies sharing the bronze medal. But even those of us who didn't rate a mention – and were kicking ourselves when Margaret gave the results, and we realised that we should have known the answer! –  really enjoyed that hour in the company of our EWS friends. The technology might have been a bit of a struggle for some, but the smiles and banter made it very worthwhile, and everyone who joined in will be looking forward to our next Zoom event.
Grateful thanks to Margaret and Chris Brandie for making the evening possible.